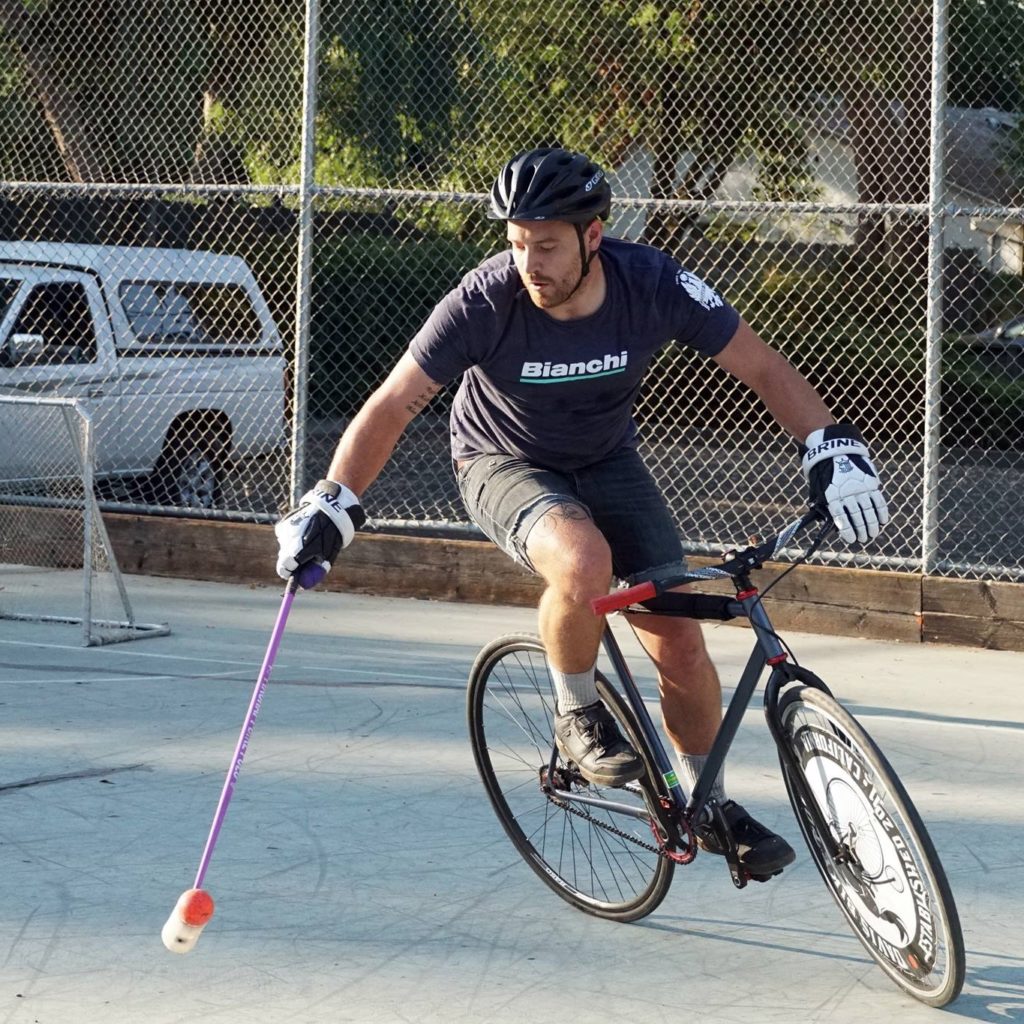 Aidan joined Davis in 2014 and instantly became the club's comedian, beer boy and mascot, all essential things of a fun club. On the court, he'll surprise you with a ripper shot and a stealthy block. When not playing, he's trying to evangelize people to bike polo at the bike shop where he works.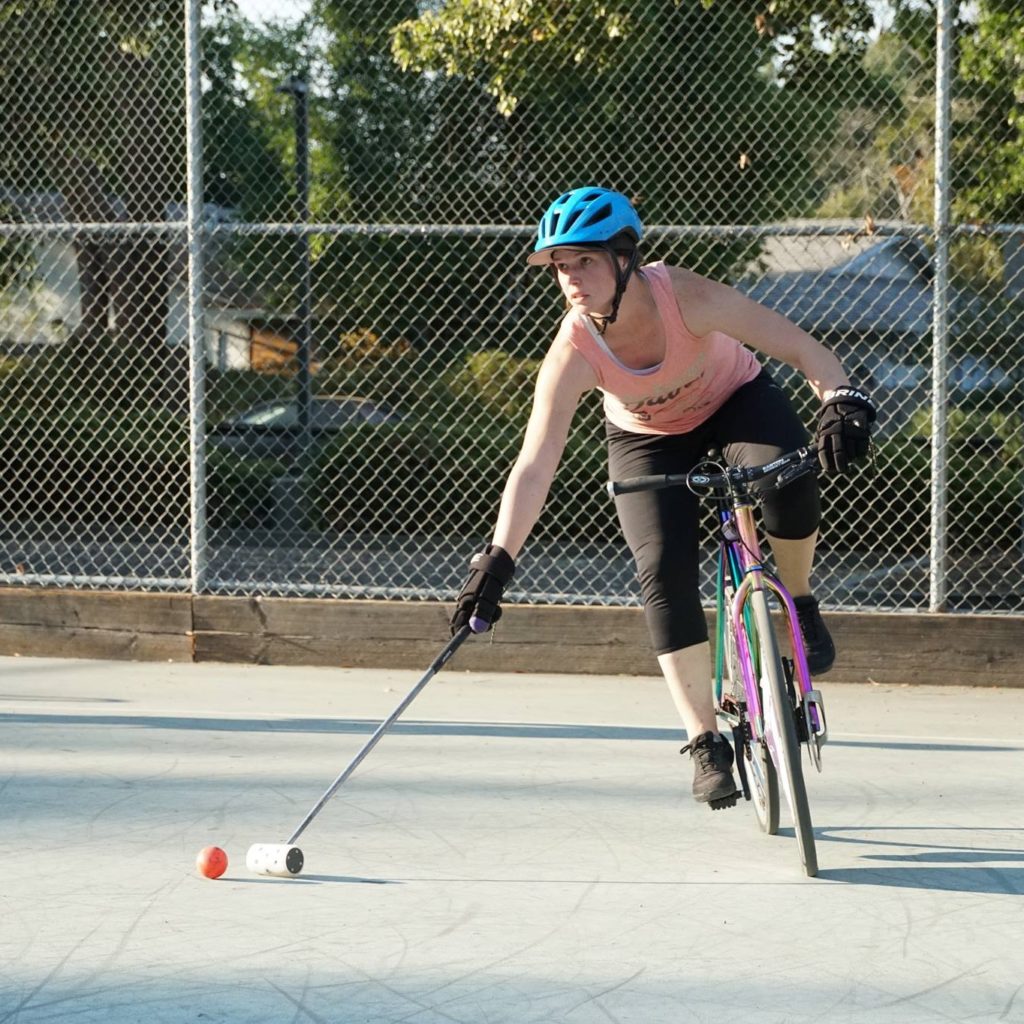 Michelle, a new player in Davis, is already making the experienced players tremble in their bike shoes. Great court placement, sneaky shots and knows when to roll into goal, she won't be a rookie for long! When not slaying on the court, Michelle is kicking butt in her PhD program at UC Davis. Michelle joined Davis in 2015.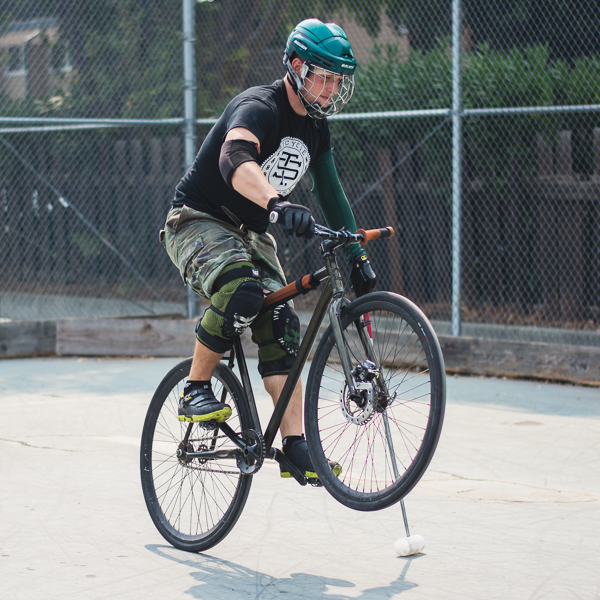 Abe, a lefty and founding player of Davis Bike Polo, started the club after seeing a video of the sport online. Loving the DIY and community spirit of polo, he continues to bring this spirit to the sport with new bike design ideas, teaching new players the ropes, and developing killer plays to dominate on the court.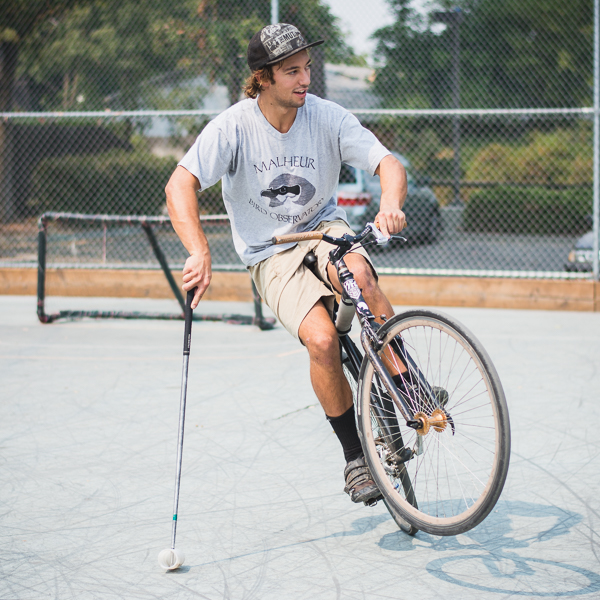 "Wheelie Will" can wheelie out of any situation, on or off the court. He confuses and terrorizes his opponents with encouragement and advice on how to score while he sits in goal, and bewilders onlookers with laser beam wheelie shots that never should have touched the back of the net. Will joined Davis in 2013.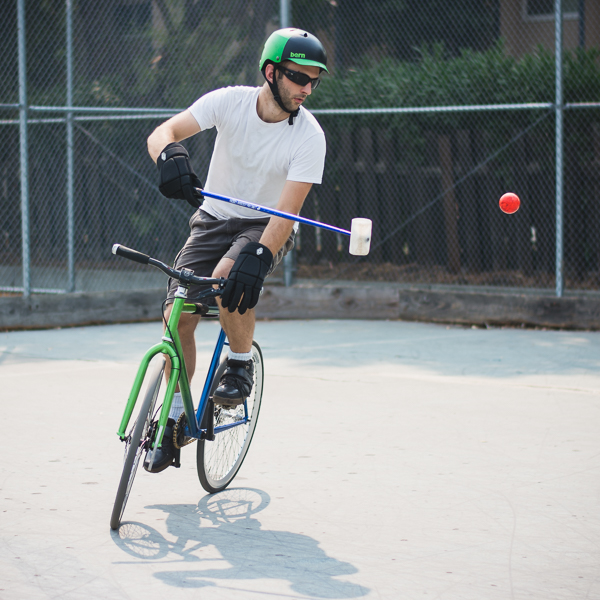 Ben is one of the founding players of Davis Bike Polo and qualified for the North American Championship in 2013.  On the court, he's all business, the business of putting the ball in the net, that is! He played for a bit in New York City, but is now back slaying in Davis.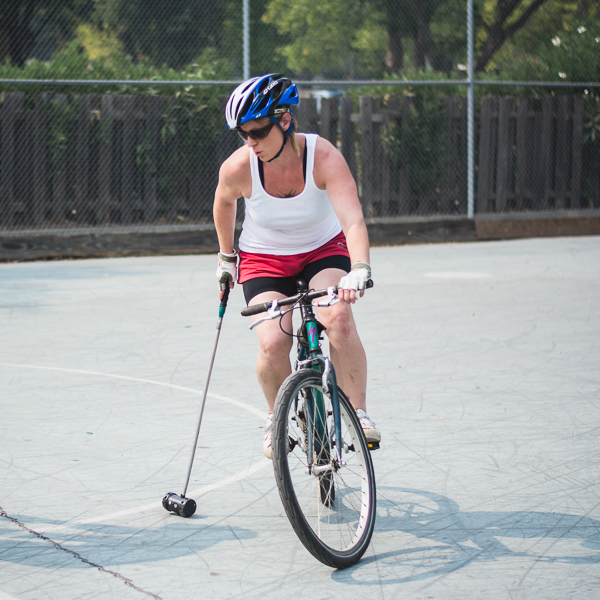 Kim, a team player on and off the court, always thought about the club more than herself, making sure everyone had fun. If she's playing goal, good luck scoring, she's got that shit locked down! She joined Davis in 2012 then took a few years off to have the adorable Lilly. Now she's back to slay!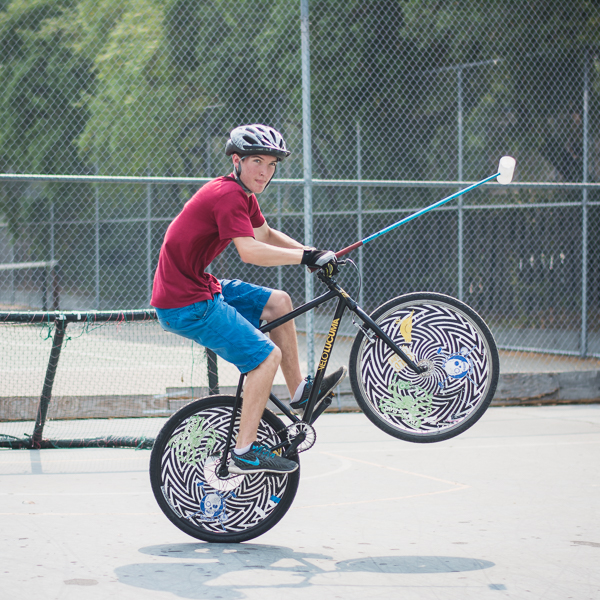 Sean, the youngest player in Davis, is quickly becoming a contender on the court. Quick to learn new skills and a great defensive player, he'll make it impossible for you to get a line on your opponent's goal. Currently he's challenging Wheelie Will for best wheelie skills on the court. Sean joined Davis in 2015.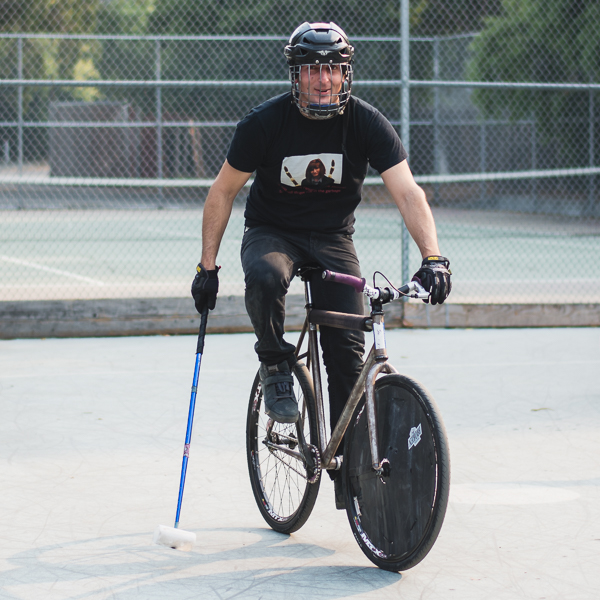 Jai started playing polo in Hawaii and moved to Cali and joined Davis in 2013. He's the club welder, trouble maker, and best hug giver. Known on the court for his speedy and stealthy steals and impossibly angled goals. He's the guy wearing all black…with maybe a spot of pink.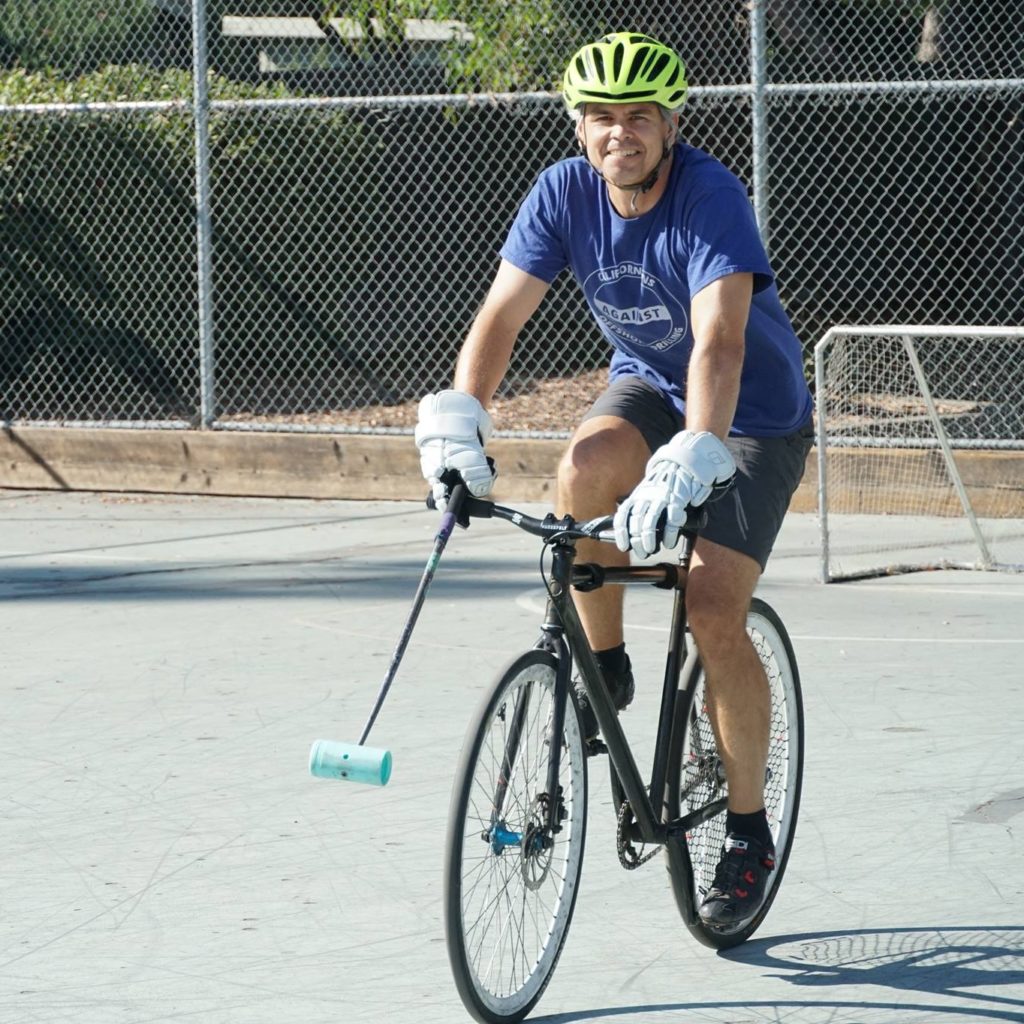 Sid Delicious started polo by breaking his arm the second time he ever played. He got right back on the court though, and has been breaking opponents hearts and minds ever since. Playing for reals since 2017, this old man is just a kid in polo years. But don't look now, the training wheels are off!!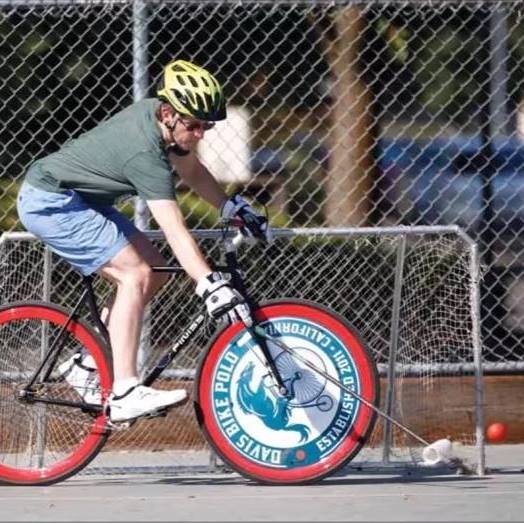 "Fresh Bread" Ed started in 2016 and is still trying to get the hang of playing front court.  Late at night, he dreams impossible dreams of being The Goalie Who Blocked Everything.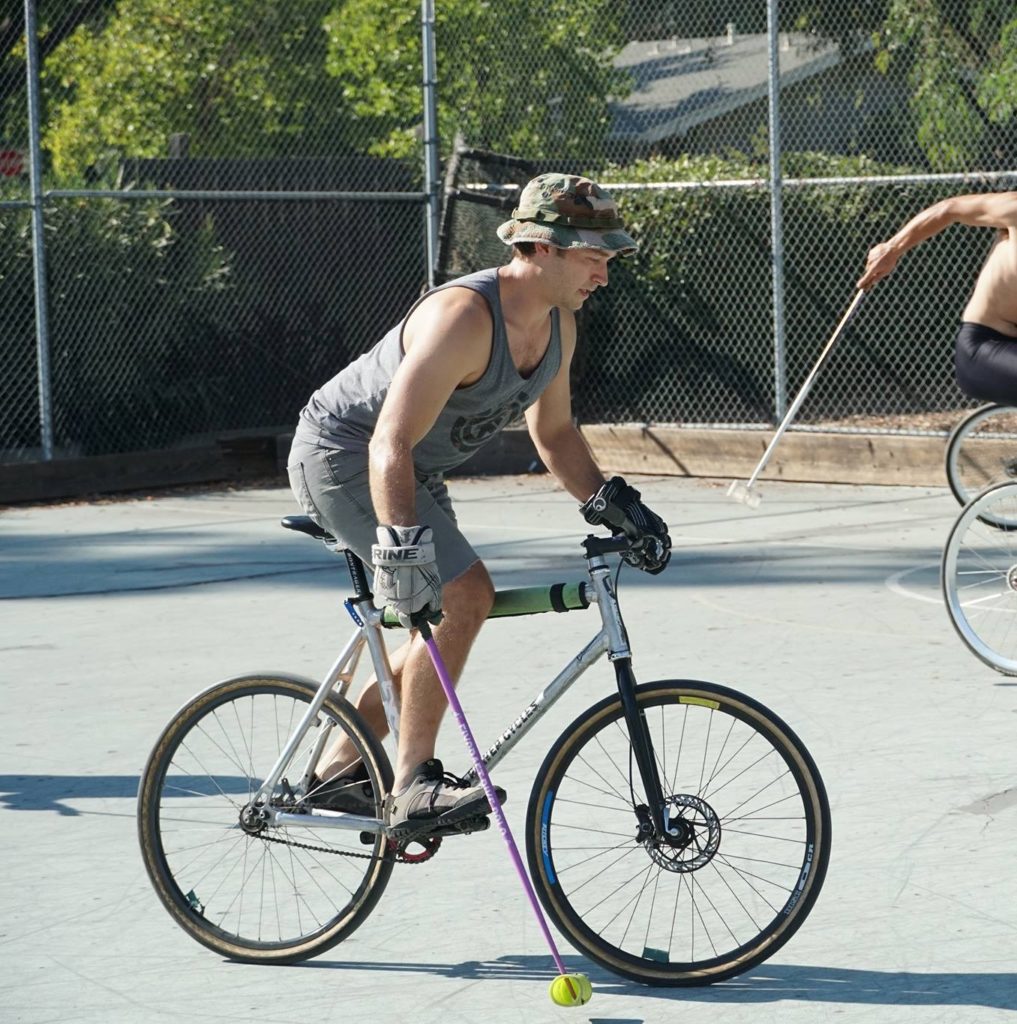 Chase has been playing polo for 7 years.  "I Enjoy the sport because it is great exercise and challenges your patience and skill. I have made many friends and travel for polo."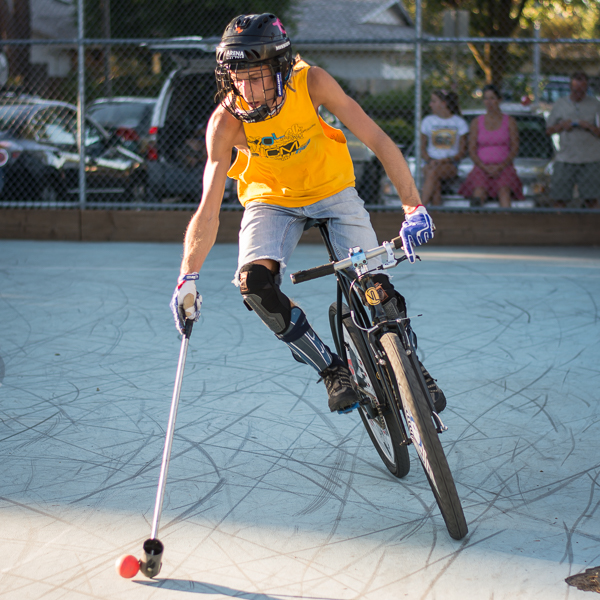 Marc came to Davis from Spain in 2012 to work on perfecting his English, polo and horticulture skills. He played with Davis Bike Polo for two years, and competed at the North American National Championship in 2013. He now lives and plays in Olot, Spain.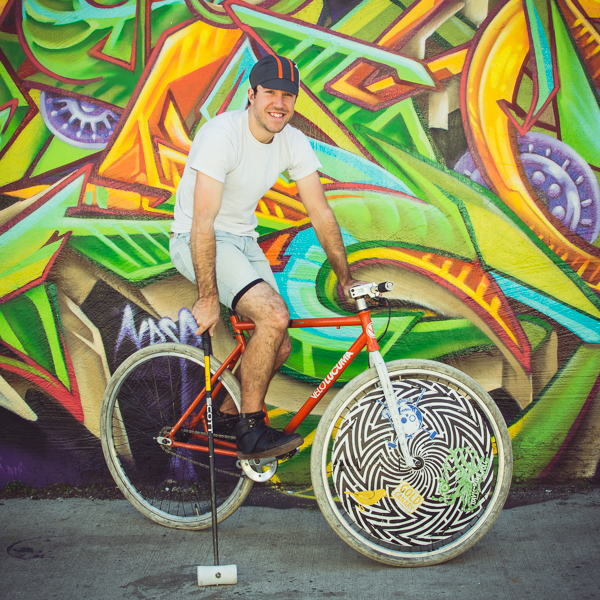 "Taco Tony" earned his nickname back when he seemed to taco a wheel at every pickup session. Thankfully only the nickname stuck. Tony is one of the founding players of Davis Bike Polo and qualified for the North American National Championship in 2013. He now lives and plays in Madison, WI.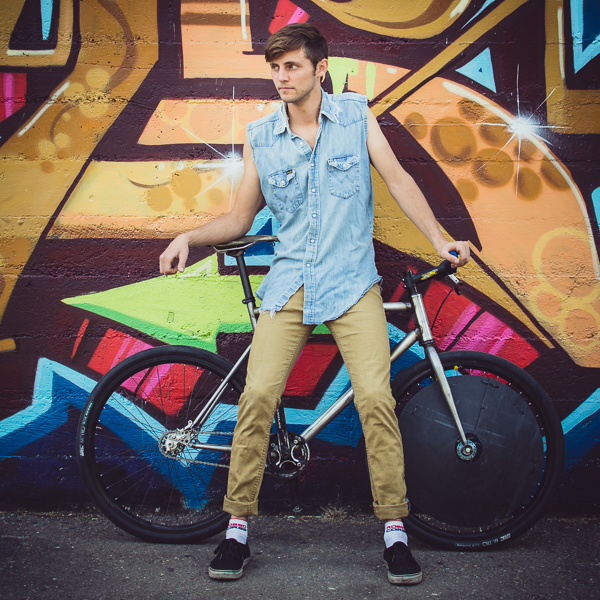 Bobby joined Davis Bike Polo in 2013. An avid cyclist and bike mechanic, he taught many in the club the dangers of using the "no no wrench," built majestic polo frames and forks and played fast and amazing polo. He now lives and plays in Vancouver, Canada.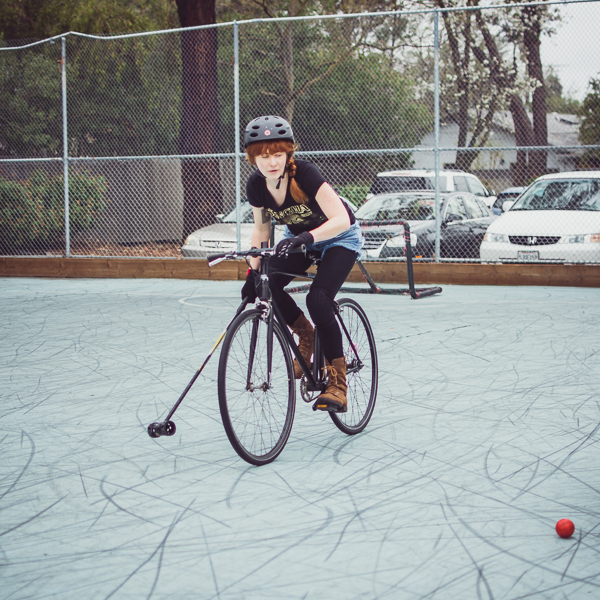 Laura started playing with Davis in 2013 on her fixie single speed. She never gave up trying to bring the fixie back into polo vogue. Her killer shot made even the most experienced goalies tremble. She now lives and plays in Baltimore, MD.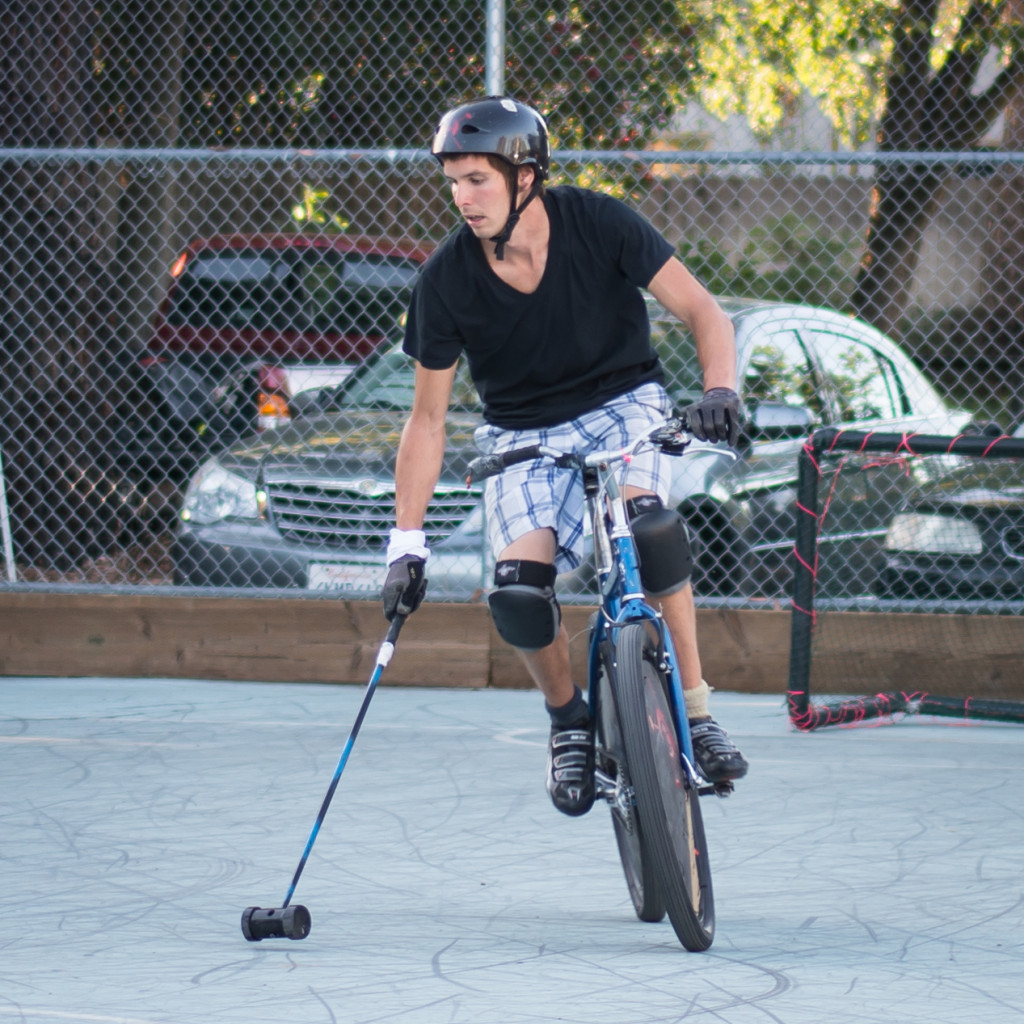 Zeke, aka "Zamboni," began polo in 2012 and helped found the club. He kept players going with tasty home-brewed beers and a cheery attitude. A diehard old-schooler, Zeke scoffed at the obstruction rule and laughed in the face of a crease violation. He's currently raising three tiny future polo players.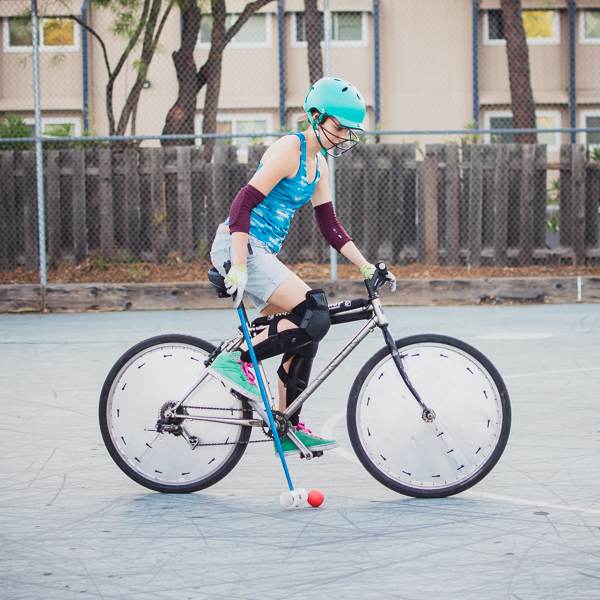 Megan, hesitant to try polo, fell in love with the sport in 2014 after playing at the Davis-hosted ladies-only sessions a few times. A strong defensive player and goalie, Megan will surprise you with her bold offensive plays when you're least expecting it, so watch out! Megan now lives and plays in Madison, WI.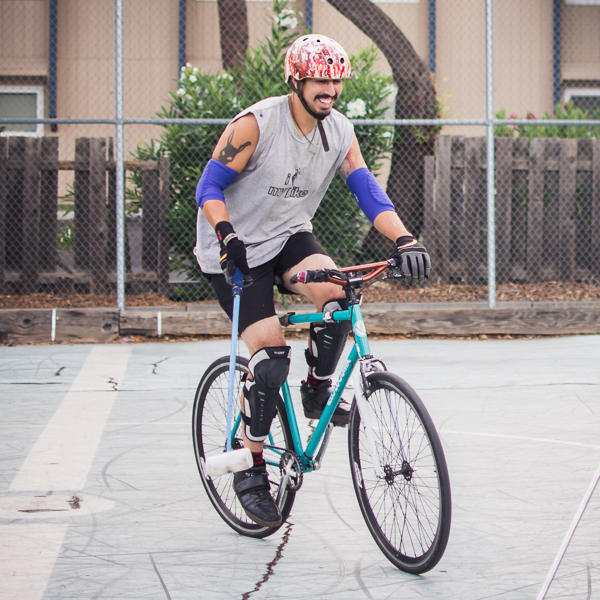 Eric, aka "Lil' Bacon" loves nothing more then a gracefully executed ballerina shot… or a blind Watson, depending on his mood. While he loves polo, his true love is snacks and they're the primary reason he's stuck around so long. Eric helped found Davis Bike Polo in 2011 and now lives and plays in Oakland, CA.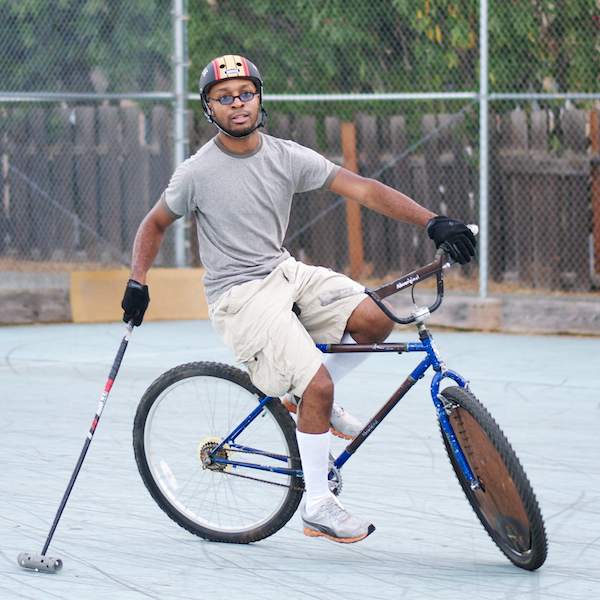 Jabou, or "Reality Check," road the court like a king, regal and stately and seemingly immune to dabbing. While he no longer reigns on the court, he now reigns in the classroom, and is currently enlightening the minds of the future… and encouraging them to try bike polo. Jabou joined Davis in 2012.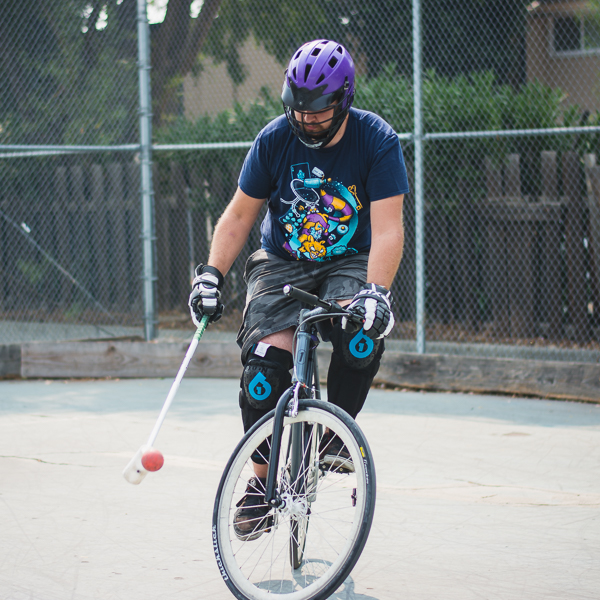 David, aka "English David" is known best for his sarcastic British humor. He keeps everyone on the court smiling even when he steals the ball. And just for the record, he's recruited the most newbie players and he won "Best Mutton Chops" in England in 2014. He joined Davis in 2015.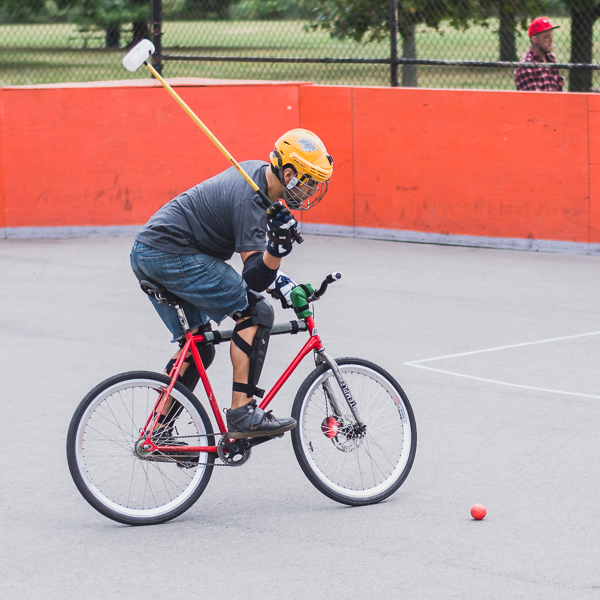 David started playing in Davis in 2014 when he found a Davis Bike Polo flier in his spokes. He quickly mastered the basics and before we knew it, he was teaching us scoop passes, trick shots, and other fancy moves. This good-natured guy now lives and plays in Los Angeles, CA.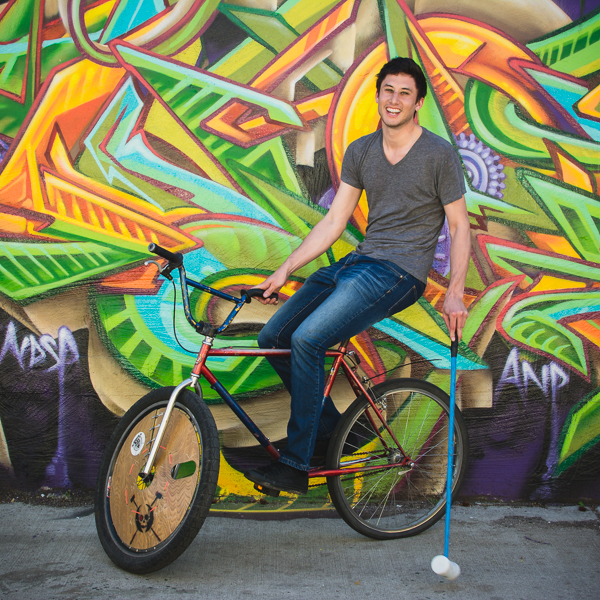 Jimmy was always in the right place for a sweet pass and the first to start a round of high-fives, congratulating everyone on how awesome they played. He was also the most fancy on the court, playing in dress pants and shirt, always keeping it classy. He joined Davis in 2012.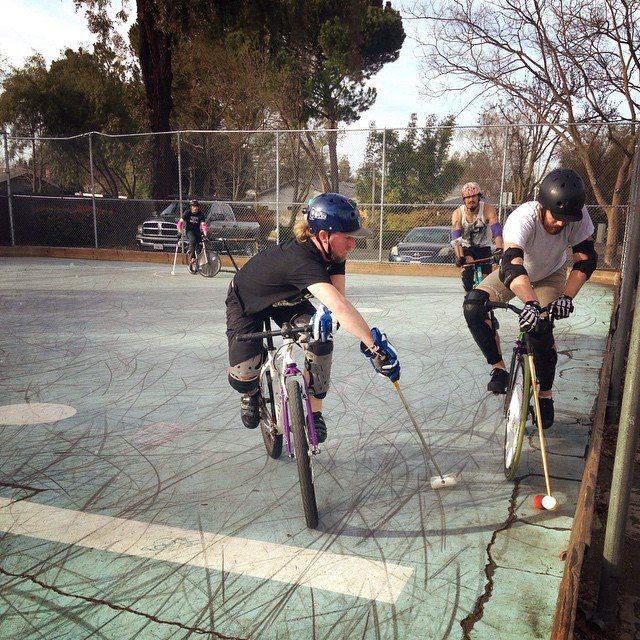 Dan, aka "Danimal" joined Davis in 2014 when we lured him off the basketball court. Since then he's mastered long shots, Cross Crandalls, and everything in between. He spends his days as a skydiving instructor jumping out of planes.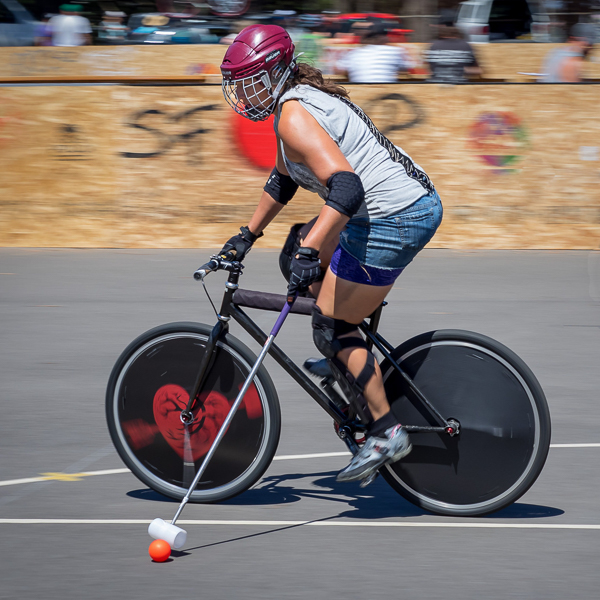 Jenny watched bike polo for a couple years before picking up her own mallet in 2013. She became obsessed. This lefty is a whiz in goal, a great passer, and has a killer longshot. Just don't get tricked when she rides in circles with the ball, she'll outmaneuver you every time!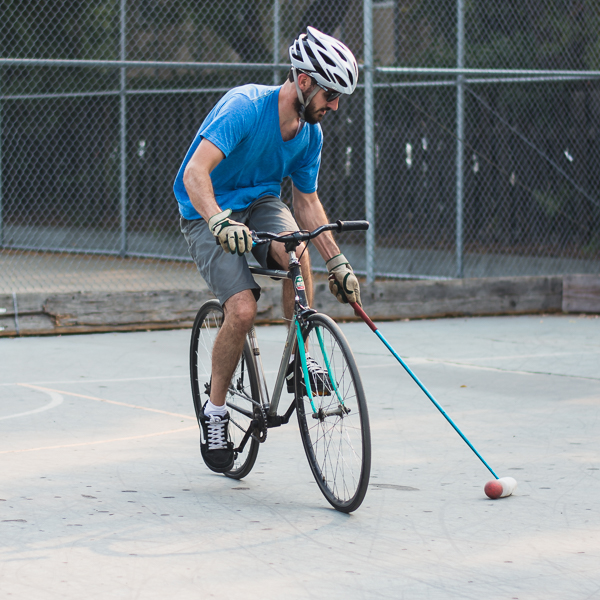 Adam, a true team player, has a knack for reading the court and understanding what his team needs. One of the best rookie goalies Davis has ever seen, he will block all your shots and then deliver a sweet lefty shot on your bottom bracket. He joined Davis in 2015.