Davis Bike Polo hosted its first Bench format tournament in May 2015 to help raise money for Ladies Army 7 – The Women's North American Championship of Hardcourt Bike Polo which will took place in San Francisco in June. We  believe that Ladies Army is a wonderful way to encourage women to get excited about bike polo and bikes.
Davis Bike Polo raised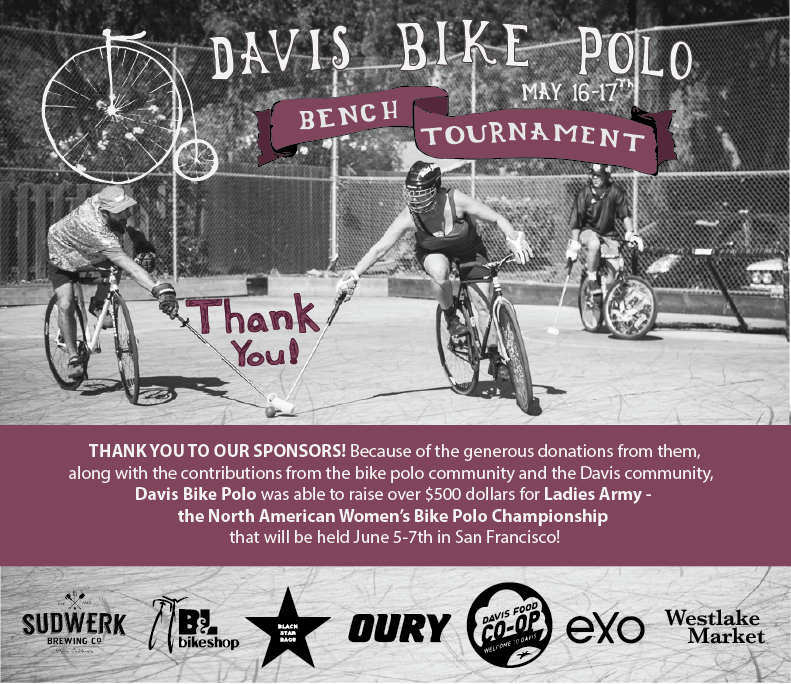 over $500 by raffling off sponsors' prizes and donating half of the registration fees collected for the Davis Co-ed Bench to Ladies Army 7. To find out who played and placed check Podium, here: https://www.podiumbikepolo.com/Davisbench2015
Sponsors for this event included:
Sudwerk Brewing Co.
Exo Protein Bars
Davis Food Co-op
Black Star Bags
Oury Grips
Westlake Market
B&L Bike Shop
Thanks so much to our sponsors and the bike polo community to helping us support women in bike polo!